Well good gravy, it's Wednesday already.
On behalf of my wife and Jake, I invite you all to take the easy way out of blogging today and participate in their linkup thing. Go to Holly's blog
HERE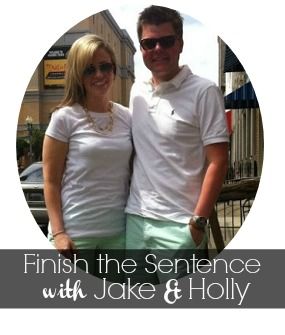 My happy place
...outdoors…JUST KIDDING, the outside is terrible…on the couch, fresh takeout and a bunch of shows to watch on DVR.
Whatever happened to
....Surge, Community, Facebook, my stomach, Grimm?
So what if I.
... haven't had a hair cut in many months...they never do it right, then I have to live with dumb hair for a week....also my eyebrows are terrible, but I can't face the pain of the thread lady at the mall...it hurts too damn much....about to have a name change to Harry Jack.
E! needs a reality show about
.
..hmm…how about a show about a really obnoxious and annoying Armenian family that
doesn't
really do anything or have any talent…but they could just like go to lunch and whine about things… and then have fake fights with each other about stupid shit….sounds like a winner.
My go-to fast food meal is
...if you don't know that, leave this blog.
You might not know that I
...can wiggle my ears…it's a gift ladies.
The hottest quarterback in the NFL i
s
...out of loyalty, I must say Romo…but everyone knows it's Tom Brady.
If I could
....turn back time....I would have bought Holly Lumiday sooner...WINK...love you babe
My personality is awesome because
...these all seem geared towards me today…well, I'm the best at everything.
Twerking is
....I just lost respect for this linkup
I think it's super gross when
...people leave hair on a brush or hair anywhere…I have a stray hair phobia…it's the grossest thing in the word…brought on by a childhood
tragedy
Someone needs to tell Miley Cyrus
....to get a boob job!.........see what I did there…I made it worse.